The Edward Jenner Vaccine Society
A Learned Academic Society Dedicated to Vaccinologists and the Memory of Dr. Edward Jenner
We are pleased that The Edward Jenner Vaccine Society (aka "The Jenner Society") has been established.  The Society is intended to serve as a professional "home" for academic vaccinologists, and to honor the memory of Dr. Edward Jenner (1749 – 1823) and his work published in 1798, An Inquiry into the Causes and Effects of the Variolae Vaccinae, or Cow Pox.  It is appropriate that we officially launched the Society in the Year 2010, commemorating the 30th anniversary of the eradication of smallpox.  Currently, there does not exist any single academic or learned society dedicated solely to the interests of academic vaccinology at the international level – despite the tremendous positive impact on the public health of vaccines and the tremendous human suffering caused by transmissible infectious diseases.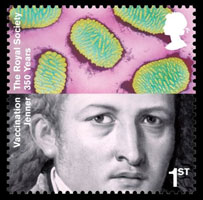 February 2010 release of the Jenner Commemorative Stamp
at the 350th anniversary of the Royal Society.